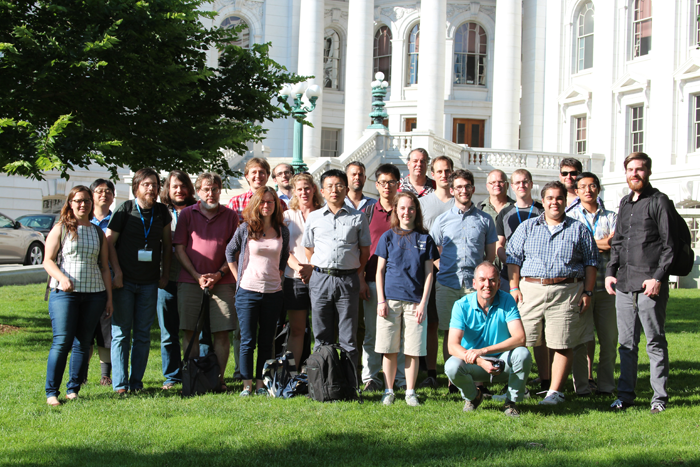 Today, the ARA Collaboration ends three days of meetings to discuss recent analyses and prepare for future deployments of the Askaryan Radio Array (ARA) in Antarctica. The meeting, hosted by WIPAC, brought about 20 ARA collaborators from around the world to Madison.
As the first science results are published, showing that radio detection of ultra-high-energy neutrinos is possible, the number of collaborators keeps growing. Abigail Vieregg, an expert in the field and faculty at the University of Chicago has just joined the ARA collaboration. All in all, the collaboration now has over 50 researchers from 13 institutions in the US, Europe, and Asia.
In addition to the science analysis discussions, new detector ideas were presented along with planning for South Pole station deployments in the next two years. New students and postdoctoral fellows presented the beginnings of new software frameworks, calibration activities in the laboratory and in the ice, and studies of radio properties of the ice.
The first search for ultra-high-energy (UHE) neutrinos in ARA, published in Astroparticle Physics last June, proved that ARA is performing as expected but that the current sensitivity does not yet allow for a measurement of the UHE neutrino flux.
More recently, the collaboration has updated these results with a search for UHE neutrinos from gamma-ray bursts (GRBs), also using the ARA testbed station and data from the 2011-2012 period. Physicists searched for UHE neutrinos from 57 known GRBs, selected from among 589 monitored by the Gamma-ray Coordinates Network (GCN). ARA did not find any neutrinos, a result that is compatible with the background-only hypothesis. This search has allowed setting the first limits on the quasi-diffuse UHE GRB neutrino flux at energies above 
 eV.
+ info "Constraints on the Ultra-High Energy Neutrino Flux from Gamma-Ray Bursts from a Prototype Station of the Askaryan Radio Array," P. Allison et al. Submitted to Astroparticle Physics. arxiv.org/abs/1507.00100