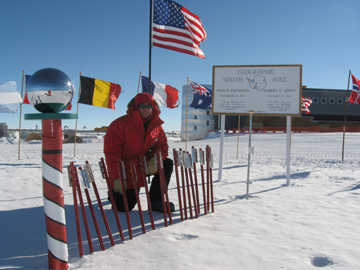 On most days, the South Pole in Antarctica is colder than Wisconsin. When the polar vortex descended on our state, temps dropped below those at the South Pole, giving us an opportunity to feel what it may be like to work at the end of the Earth.
For many Wisconsinites, South Pole temperatures are no shock, given that the University of Wisconsin has the lead in building and maintaining the IceCube Neutrino Observatory, an innovative telescope in Antarctica.
On February 19th, Jim Madsen from the University of Wisconsin – River Falls will be at UW – Barron County to talk about IceCube, a giant telescope designed to observe traces of a mysterious particle that can tell us more about some of the most exciting events in the universe.
The talk begins at 12:30 in the Blue Hills Lecture Hall and will cover working in Antarctica, construction of the observatory, and information about how IceCube gives us a new way to look at astronomical phenomenon like exploding stars and black holes.
It took seven years and the efforts of an international collaboration of scientists to design, test, and build IceCube. The worldwide effort, stretching across the globe and into the heart of Antarctica, is rooted squarely in Wisconsin with key partners at the University of Wisconsin–Madison and suppliers from all over Wisconsin supporting the effort.
To celebrate the Wisconsin connection and give back to the colleges and communities that supported IceCube, researchers are traveling around the state, providing engaging events for all age groups. As part of the visit to Barron County, Madsen will also be giving talks at the Barron County Sunrise Rotary and the Grantsburg Rotary on February 18.
Funds for the statewide public education event are provided by the Ira and Ineva Reilly Baldwin Wisconsin Idea Endowment and the Wisconsin IceCube Particle Astrophysics Center (WIPAC). The National Science Foundation is the major funding agency for IceCube and operates the South Pole station.
For more information contact UW-Barron County at 715-234-8176.