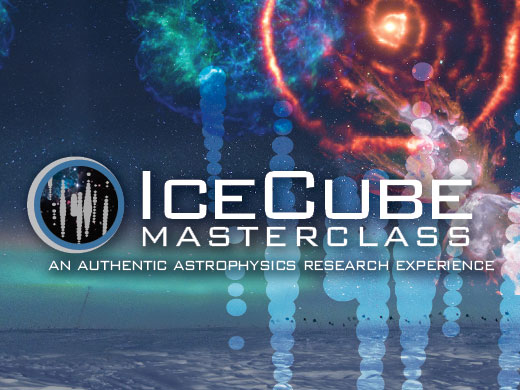 The first edition of the IceCube Masterclass, hosted on May 21 at five different IceCube institutions in the US and Europe, will bring over 30 students to WIPAC from six high schools in and around Madison.
The IceCube Collaboration is launching this new activity, which will allow students to learn about neutrinos and what they tell us about the universe while also learning about a unique experiment: IceCube, a cubic-kilometer neutrino detector buried in Antarctica's ice.
The masterclass is a unique event where high school students and accompanying teachers are invited to join IceCube collaborators for a few hours and experience real research by performing an analysis using IceCube data. Students will meet active physics researchers and link up with student peers from the US or from other countries in Europe.
The Wisconsin IceCube Particle Astrophysics Center (WIPAC) at UW–Madison will be hosting this one-day masterclass in Madison on May 21, from 9:00 am to 5:00 pm.
In the morning, the students will be introduced to IceCube through a lecture. After having lunch with researchers, they will work on a guided activity to reproduce a recent IceCube research result published in Science. The students will also participate in a web conference with the South Pole and their peers in the US and Europe. Finally, they will discuss their results in a virtual meeting with the group at the University of Delaware in Newark (US).
More information: http://icecube.wisc.edu/masterclass.