The IceCube Neutrino Observatory team is anxiously awaiting the arrival of Armando Caussade at the South Pole. Caussade's long journey from Puerto Rico to the frozen, windy desert that he will call home for a couple of weeks started on January 2, 2015. Although he arrived as scheduled at McMurdo Station on the coast of Antarctica on January 5, 2015, the last leg of his journey to the South Pole has been delayed two days so far due to poor weather.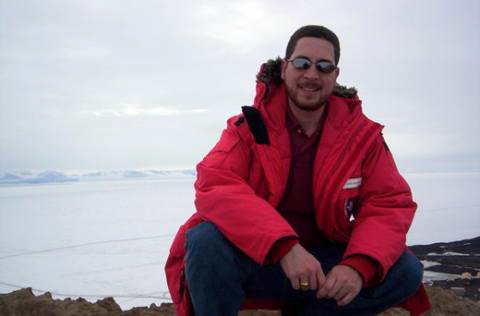 Caussade was chosen to work with IceCube and the National Science Foundation PolarTREC program based on his exemplary skills teaching and presenting science and astronomy to diverse audiences. For example, he provides after-school science activities for K-12 students in G Work's Eco-STEAM project in Juncos, Puerto Rico and teaches astronomy at the Pontifical Catholic University of Puerto Rico. His passion for learning, and for astronomy in particular, is infectious and has inspired many who now see the night sky with greater appreciation and awe.
Armando is very proud to represent Puerto Rico and readily embraces his responsibilities as a role model. He hopes his trip will inspire other students and teachers to pursue their dreams and take advantage of the incredible opportunities a science education provides. During his time at the Pole, he will be able to experience the extreme Antarctic environment. He will assist the team in taking measurements on the surface tanks that make up the IceTop array, and he will get a chance to clear snow at -20 °F. That's pretty extreme weather for anyone but especially so for someone used to one of the most comfortable and constant climates in the world—Puerto Rico temperatures typically stay between 75 °F and 85 °F year round.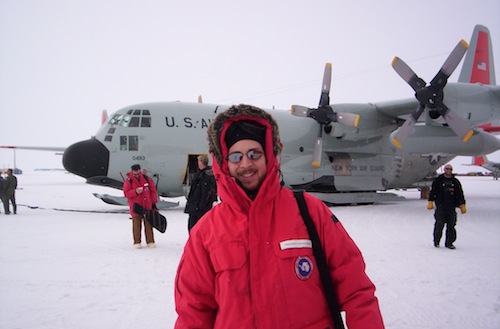 Follow Caussade's adventure on his PolarTREC blog. You can also hear from him directly from the South Pole during webcasts on January 13th (9:00 am CST, English) and 15th (8:00 am CST, Spanish), 2015. Go to icecube.wisc.edu/outreach/webcasts for instructions on how to join a webcast.