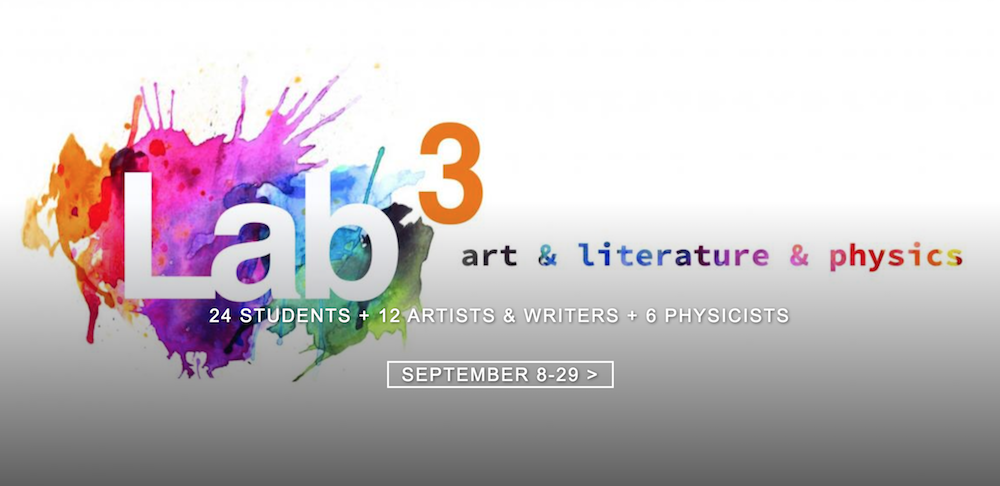 The Wisconsin IceCube Particle Astrophysics Center (WIPAC) and the Arts + Literature Laboratory (ALL) are kicking off the school year with a September exhibition featuring artworks inspired by scientific research led by physicists from UW–Madison, including scientists from the IceCube Neutrino Observatory as well as faculty from the Department of Physics.
The LAB3 project paired UW–Madison physicists and Madison-based artists and writers with high school students from the area. Over the summer, six teams—each composed of one scientist, one visual/performing artist, one writer, and three to four high schoolers—explored current areas of scientific research ranging from neutrinos to dark matter to cosmic rays. In response to these scientific topics, the teams have produced original visual, literary, and performance-based art, including two-dimensional art, installation, video art, sculpture, and poetry, which will be on display at ALL from September 8 through September 29, 2018. LAB3 is a collaboration between ALL and WIPAC, with support from the American Physical Society (APS) and Dane Arts and additional funds from the Endres Mfg. Company Foundation, The Evjue Foundation, Inc., charitable arm of The Capital Times, the W. Jerome Frautschi Foundation, and the Pleasant T. Rowland Foundation. 
"We wanted to connect east and west Madison, the Badger community at UW–Madison with a strong interest in research, and the growing community of local artists and writers who express their understanding and concerns about society and the world in their works in the arts and literature," explains Sílvia Bravo, who leads communication efforts at WIPAC and IceCube and is one of the codirectors of the LAB3 project.
"LAB3 invites students to think about science from another perspective, to grow and develop their creativity. Scientists as well as artists and writers try to understand the world around them. They just do it using different techniques and platforms. There's no need to choose between your scientific and your creative self," says Jolynne Roorda, founder of ALL and also a codirector of the LAB3 project.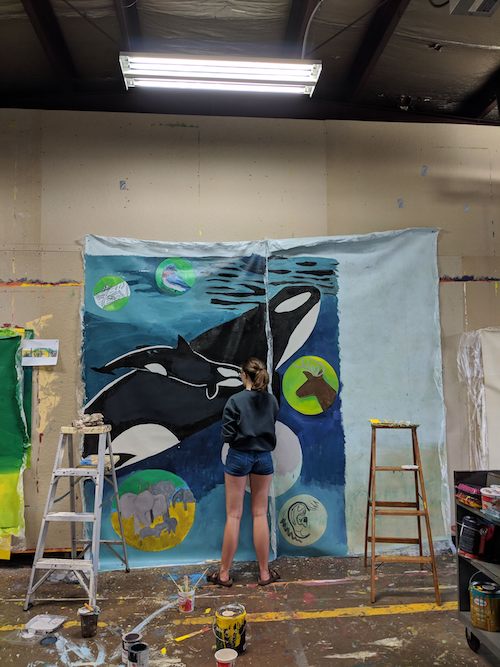 The opening reception will be held on Saturday, September 8, from 6-9pm. The exhibition and reception are free and open to the public. Gallery hours are Wednesday to Saturday, 11am-3pm, or by appointment.
To facilitate visits from younger students, LAB3 is offering guided visits to middle schools along with complimentary transportation to and from the gallery. Research has shown that students mostly self-identify as a scientific or a creative person by the time they reach high school. By age 14, most adolescents will have decided if they want to pursue a scientific or technological career. Depending on their choice, this will also impact the time they spend on activities not related to their career goals, increasing the division between science and the arts that has prevailed in our society for centuries.
LAB3 unites high school students with mentors in the sciences and in the arts, fosters multidisciplinary creativity, and promotes conversations among scientists, writers, artists, and students in order to connect scientific discoveries with artistic experimentation. The project leaders, including mentors, truly believe that the intersection between these two worlds fosters a better understanding of the world, nurtures engagement between science and society, and provides a space for our youth to develop as individuals and professionals in a more inclusive community, open to their interests and abilities.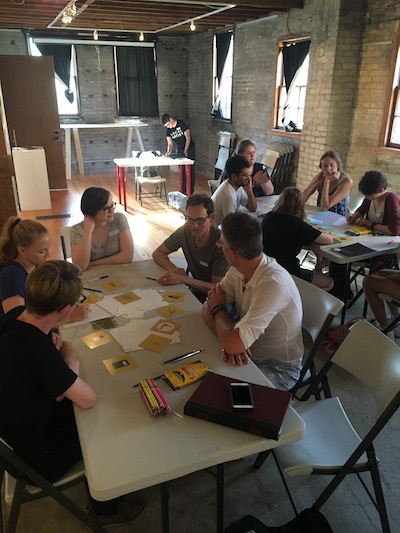 Physicists include Victor Brar, Juan Carlos Díaz-Vélez, John Kelley, Thomas Meures, Kim Paladino, and Chris Wendt. Artists and writers include Matt Ambrosio, Rhea Ewing, Jenie Gao, Trevin Gay, Christine Holm, Leslie Iwai, Ali Muldrow, Hannah O'Hare Bennett, Katherine Rosing, Katrin Talbot, Guy Thorvaldsen, and Angie Vasquez. Students are from Madison, Middleton, Waunakee, Janesville, Wauwatosa, and Lake Mills high schools and include a few home-schooled teenagers.
For more information, please contact: Jolynne Roorda at hello at artlitlab.org or 608.556.7415, or Sílvia Bravo at learn at wipac.wisc.edu.